Tuesday, March 30th, 2010
Monday, March 29th, 2010
Greetings from San Francisco! Despite the fine drizzle outside today, we're having a mighty fine time entertaining the Californian Bootie troops out here – already two highly memorable shows in Portland and SF, and one more to go this Saturday 3rd April in LA! (although don't forget we'll be zooming home for Bootie London on Friday 9th April)
In the meantime, if you want to hear it straight from the animal's oral cavity, tomorrow Eric will be the special guest on The Evolution Control Committee's "The Sound Of Plaid" radio show.
If you're unfamiliar with ECC's work (and shame on you if so!), check out the many fine tracks on their download page, or to hear an example of their influence on the K-Sound, Eric recommends checking the classic "Rocked By Rape".
The show airs tomorrow live 8-10pm PST, and there's also several repeats on Thursday including ones at more Euro-friendly times. If you can't catch those though fret not, as the show will also be archived on the ECC site. Full details of all the times and locations can be found here!
So tune in or miss out!
Sunday, March 7th, 2010
Happy early days of spring in the north-western quadrasphere (or something) to you. More gigs and Videotones news for you – read in!
Straight in with the gigs – frist up, a rather overdue hometown show here in Brighton on Friday 19th March, as part of the Synthetiquette night at The Hope – also playing are Neon Highwire and Officer 82. It'll be a great way to blow off the cobwebs before we head off to the USA, but get down early as it's not a huge room!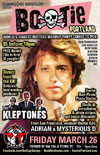 Second up, speaking of the USA, we're delighted to be extending our existing Californian excursion into the fine county of Oregon – That's right, we'll be touching down in Portland on Friday 26th March for Bootie Portland! Really looking forward to this one as we've made some fine contacts in Portland over the years, so it'll be good to finally hook up!
Not in Portland or Brighton? Whimper not, for here is the next installment of the Videotones project – The director is Brad Mackey of Crappy Logo Productions, who adds a splendidly psychedelic edge to "MKY Da HVN":