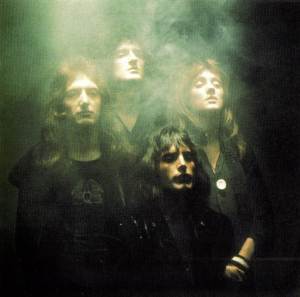 A few years ago, we put together an edit mix of different versions of Bohemian Rhapsody as a little Xmas gift for our mailing list.
Since then, I've been asked with rather surprising regularity for a list of the featured artists, which I've never got round to doing, mainly because I couldn't remember where the source files were (sorry!). I got asked again t'other day and have actually managed to dig them up, so here, for those of you who are interested, is the list, in order of appearance (although some do appear more than once!).
Queen feat. Extreme (From Freddie Tribute Concert)
Bad News
Anonymous Answering Machine Message
Faye Wong
Hyannis Sound
Rockapella
Monserrat Cabalier & Bruce Dickinson
Rolf Harris
John Miles
Queen B
Royal Philharmonic Orchestra
Stepping Stone
The Former Yugoslavia (Dictionaraoke version)
Today FM DJs
Weird Al Yankovic
Weasel Walter
Black Strawberrys
Unknown (90s smooth soul)
The Braids
InterMagyar
Skoo
Jeff Scott Soto
Savatage
Ours
Russell Watson
Wolf Marshall
Brass Band De Waldsang
California Guitar Trio
Madison Scouts
Baromfi
Mountain Dew TV Commercial
De Dannan
Unknown (country-ish)
And here's a link if you've never actually heard it:
Looking back on it now, I'm surprised that we couldn't find room for the solo accordion version, but there you go. There's two versions in there that even we don't know, as they came from untagged mp3s (if you want to play spot the Bo, they happen at 1m09 and 5m50 – Answers on a postcard, thanks).
So now you know :)