Wednesday, September 29th, 2010
Monday, September 13th, 2010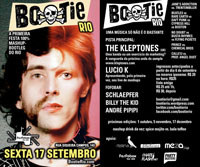 The drumroll may have started, but the case is still empty. All that will change very soon, in the traditional flurry of packing, as Eric gets himself ready for his trip to Brazil to play at Bootie Rio this Friday 17th!
Although we're not exactly sure what the evening will hold, it's certainly going to be something very special, as naturally, the Bootie Rio crew take their partying very seriously – Playing with the theme of our very name as described on Wikipedia – A "klepto of tones", or "thieves of music". the night will have a decidedly underworldly feel – a series of famous mugshots have been seen promoting the night, and rumour has it that there will be Bootie Police on the door checking everyone's credentials – miscreants risk ending up in a cell inside the club. As to what will happen when Eric himself enters the club, you'll have to be there yourself to find out…
Also playing a live mashup set on the night will be Lucio K, who recently fired some questions to Eric for the Ipanema Blog – you can read the results here (scroll down for the English translation!).
The whole shebang takes place at Fosfobox in Copacabana, Rio De Janeiro this Friday 17th September – If you're not in Brazil, there's still time to book your flights… ;-) Until next time, it's adeus from us…
Thursday, September 2nd, 2010
…for all the kind words and complementary reviews for "Shits & Giggles" – was hoping it would find you all in the spirit it was intended :-D
Thanks also again again again to everyone that's been out to see us this Summer – Shame the weather hasn't been as good as the shows!
Also, as a thank you to all the peeps who came out to the Playgroup Festival in August, the organizers are throwing a free celebratory bash this Friday (3rd) at The Concorde 2 in Brighton – Eric will be spinning up his hard drive for a surprise set, so get yourself down if you're around!
Couple of mentions for some reading matter – Eric recently did an interview with Hiram from the rather fine Harvey Girls for the Circle Into Square blog – you can have a read here!
Also, amongst many other producers and DJs, Eric was interviewed for Aram Sinnreich's recently released book "Mashed Up: Music, Technology, and the Rise of Configurable Culture" – You can read an excerpt from the book here!
And finally, a certain instrumental found it's way into our nest this afternoon and in a little flurry of keyboard-and-mouse activity, we thought we'd flip it on it's head – hope you like ;)
The Kleptones – Do You? (Direct download)
Next stop Bootie Rio! See you there on the 17th September :-D x