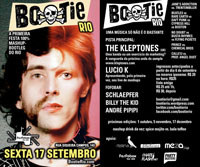 The drumroll may have started, but the case is still empty. All that will change very soon, in the traditional flurry of packing, as Eric gets himself ready for his trip to Brazil to play at Bootie Rio this Friday 17th!
Although we're not exactly sure what the evening will hold, it's certainly going to be something very special, as naturally, the Bootie Rio crew take their partying very seriously – Playing with the theme of our very name as described on Wikipedia – A "klepto of tones", or "thieves of music". the night will have a decidedly underworldly feel – a series of famous mugshots have been seen promoting the night, and rumour has it that there will be Bootie Police on the door checking everyone's credentials – miscreants risk ending up in a cell inside the club. As to what will happen when Eric himself enters the club, you'll have to be there yourself to find out…
Also playing a live mashup set on the night will be Lucio K, who recently fired some questions to Eric for the Ipanema Blog – you can read the results here (scroll down for the English translation!).
The whole shebang takes place at Fosfobox in Copacabana, Rio De Janeiro this Friday 17th September – If you're not in Brazil, there's still time to book your flights… ;-) Until next time, it's adeus from us…