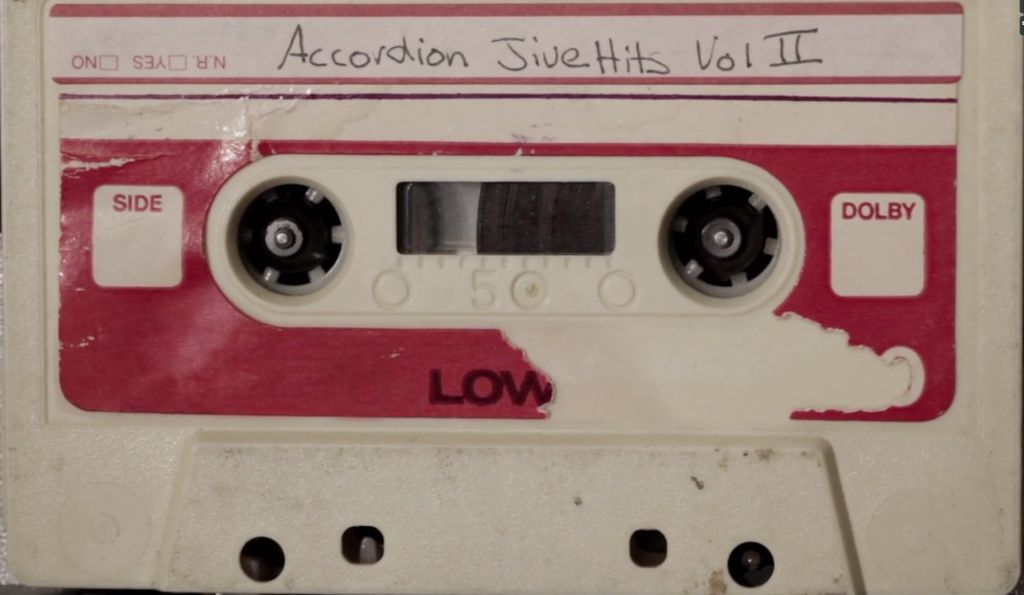 Image borrowed from Paul Simon's Twitter feed.
Direct download links: MP3 or FLAC
WARNING: Long read ahead. I'd be delighted and honoured if you didn't TL;DR me, simply hit play above and read on down the page – pretend it's a Sunday paper or something… As always there's an interesting story behind the mix.
The temptation to call this mix "Gumboots: Accordion Jive Hits, Volume 2" was huge, but it would be misleading.
By way of explanation, if you google "Gumboots: Accordion Jive Hits, Volume 2", you may well be surprised at the number of results. A popular record, you might think; well known and discussed. But try to find a copy, and you'll while away a day or more clicking from site to site around the world, maybe chancing upon "Greatest Accordian Jive Hits, Volume 3" or even "Sax & Accordion Jive Hits, Volume 1". But Volume 2? Not a sniff.
The "Gumboots" album, should you be unaware, has been awarded it's place in history due to a cassette copy which found its way into Paul Simon's car stereo sometime in 1984-85 and providing him with the initial inspiration to seek out (and eventually travel to South Africa to record with) the musicians playing on the album. An occurence that has been documented virtually every time the story of "Graceland"s creation has been told, over the course of thousands of interviews, several documentaries, and now again with the release of a 25th anniversary edition and an accompanying tour with Simon reuniting on stage with many of the original album's participants.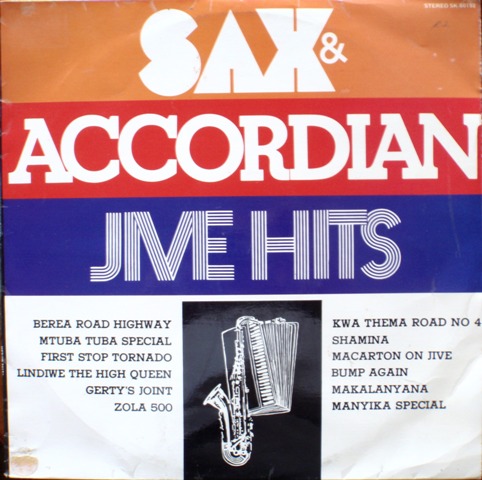 So, considering the legacy of "Gumboots", one would imagine any music-minded enterpreneurial soul, or even Gallo, the label that allegedly released the original album, would jump at the chance to re-issue such inspirational recordings and make a few bucks off the back of the multi-million selling "Graceland". Standard form for the music industry, indeed, but in this case, nothing.
(I say Gallo allegedly released it, but as no-one I'm aware of has actually seen a copy of the album, and as repeated enquiries to the label from a multitude of Paul Simon fans have gone unanswered, no-one's entirely sure.)
To further confound the investigation, from information given in interviews by Simon and other musicians, only one track on the original tape is actually identifiable. The "title" track, "Gumboots", lent it's music lock stock and barrel to become the backing track of Paul Simon's song, also titled "Gumboots" on the finished album. Indeed it's not difficult to imagine Simon driving around singing his prototype vocal melodies and lyrics over the bouncing mbaqanga groove.
But was the original tune actually called "Gumboots"? or did Simon just use the title scratched on the cassette as an identifier? You can see one side of the actual tape above – does it have "Gumboots" written on the other side? (It's rather doubtful the tape came with a tracklist, as any car-driving cassette fan would understand.) There's certainly no mention of Gumboots in the lyrics. Further Simon interview comments reveal the track originally involved The Boyoyo Boys, yet any online search for "Gumboots" by The Boyoyo Boys brings back, yup, you guessed it, thousands of results for the phantom "Gumboots Accordion Jive Hits Volume Two" album. Another dead end.
Furthermore, one would imagine somewhere along the assembly of the two very large scale re-issues of the album, someone involved might think to seek out at least this individual recording and add it to the album as a bonus track. But no, nothing.
Indeed, very little previously unheard music has been added to the original album by way of bonus material on these re-issues, despite co-producer Roy Halee's assertion that there was more than enough material generated during the initial sessions at Ovation studios in Johannesburg: "You should hear some of the out-takes. Even today, there could be two instrumental albums consisting of those fabulous grooves."
It's also known, through "Graceland"s writing credits and investigation of the wealth of documentary evidence, that at least two more of the albums tracks are based on presumably pre-existing music – On "I Know What I Know" Simon shares the writing credit with M.D. Shrinda, and on "The Boy In The Bubble", he shares it with accordion player Forere Motloheloa (part of Tau ea Matsekha, the Lesotho group responsible for the "Bubble" backing track). Although no original titles have surfaced for the music that formed part of these songs, I've located what I consider to be reasonably close matches, and included them on this mix.
I've also included at least a handful of tracks that have surprisingly close links with riffs and melodies used on Graceland, and many, many other excellent tracks that could (and should) be considered forebears of "The Big G". Note that I'm not making any claims of plagiarism (like I would dare!), simply demonstrating the common trading and development of grooves, basslines, horn, guitar, accordion and vocal riffs that took place between musicians at the time in both South Africa and Lesotho, and still takes place today, I hope.
As for the mysterious "Gumboots" instrumental? With no confirmation of the orginal title, and very patchy availability of The Boyoyo Boys back catalogue, it's proved impossible to locate. I've included a track on the mix that The Boys recorded with Lulu Masilela (co-writer of "Gumboots" as it appears on "Gracelands") which I consider to be it's closest locatable relative.
I refuse to delve deeper into the discussion about whether the writing credits on "Graceland" are fair – Indeed amongst Simon's catalogue "Graceland" is rare in the number of songwriting credits shared – proof that, for once, he was certainly not shy of demonstrating, and remunerating, the collaborative effort involved in producing the finished work.
More importantly, I must thank Paul, who, alongside sterling work by broadcasters John Peel and Andy Kershaw, both promoting similar music at the same time, opened up a new musical world to the young me, giving South African music far more of a UK (and worldwide) audience than it had previously enjoyed, and paving the way for many artists to bring that music out into the world. Also, in my opinion, he made a truly great album that, by blending his New York lyricism with another continent's grooves, gave my young ears a taste of what marvels can be accomplished when different styles of music collide.
01a Tau Ea Lesotho – Nyatsi Tloha Pela'ka
01b Tau Ea Lesotho – Puleng
01c Puseletso Seema & Tau Ea Linare – He O Oe Oe!
02 Mahotella Queens – Umculo Kawupheli
03 The Rainbows – Mashonisa
04 Soul Brothers – Bayeza
05 Dark City Sisters – Ezomculo
06 M.D. Shirinda & The Gaza Sisters – Pfuka N'wavolo
07 Abafana Baseqhudeni – Mubi Umakhelwane
08 Mgababa Queens – Maphuthi
09 Zorro Five – Barcarolle
10 Amazulu Queens – Sankatana
11 Marks Mankwane – Khupa Marama No. 2
12 Naledi Boys – Bump Again
13 Ebrahim Isaacs – Meadowlands
14 John Amutabi Nzenze – Angelike Twist
15 Queue Sisters – Ethembeni
16 Spokes Mashiyane – Kalla's Special
17 Soul Of The City – Hustle Bump!
18 J.K. Mayengani & The ShingWedzi Sisters – Khubani
19 Mahlathini & Izintombi Zomgqashiyo – Okwamadoda Kuya Bhikwa
20 Izintombi Zodumo – Mississippi River
21 Sannah Mnguni Nesimanjemanje – Ukhulupheka
22 Lulu Masilela & The Boyoyo Boys – Small Time No.4
23 Tempo All Stars – Take Off
24 Paulus Masina – Umalusi
25 Intombi Zephepha – Ingoina Le Nyathi
26 Mgababa Queens – Akulaiwa Esoweto
27 Mahlathini & The Mahotella Queens – Bophumthwalo
28 Izintombi Zesi Manje Manje – Awufuni Ukulandela Na
29 African Symphonics – Zulu Roll
30 Kings Messengers Quartet – My Lord

Images of Ethiopian art, as used on Graceland artwork, borrowed from The Peabody Essex Museum.
Compiler's note: One of the most appealing yet frustrating characteristics of this music is it's timelessness, both in arrangement and recording quality. I say frustrating, as it's tough to tell the difference between an archive 1950s recording, a rather expensive studio recording from 1968 and a lo-fi shed studio recording from 1980, especially considering sound quality alterations due to poor quality vinyl, cassette-to-cassette dubbing and yes, a modern layer of MP3 encoding.
Post-1980 the differences are easier to note, as the introduction of electronic drums and early FM synthesizers give the game away somewhat, but even then dating things is not that easy. According to Global Groove's blog, the track "He O Oe Oe!" is from a 1985 UK album, but the blog claims the original recording dates from 1981. Also the Tao Ea Lesotho tracks date from an album released in the UK by Sterns in 1988, but "Puleng" was apparently a South African hit a few years before that. The truth is very, very difficult to find, so even if a couple of these actual recordings actually don't pre-date "Graceland", the songs and grooves most definitely do!
Apologies also for any spelling errors in the tracklisting, and the largest of thanks to all re-issuers of this music, particularly the "Indestructable Beat Of Soweto" and "Next Stop Soweto" series of albums, and the blogs Afro Slabs, Matsuli, Electric Jive, Global Groove and Soul Safari, who do an amazing job unearthing and digitizing tons of outstanding African music.
There's plenty more I could add about the above artists, but I'll save that for another time – Thanks for reading and listening – hope you enjoy the mix!
(Previous Hectic City mixes can be found by clicking here!)