…but there's more to life than crappy weather. Hey, welcome back after the break! And now here's Eric with the news…
Couple of new gigs to announce – First a loooong, long long overdue return visit to Manchester, and on New Year's Eve to boot! Yes, our good friends in the town, previously of the mighty Birthday Party, now ensconsed behind the reigns of Same Teens and XOX Magazine, are taking over The Ruby Lounge to throw the house party you've always wanted to have, but have never felt like cleaning up after!
In their own words… "The Ruby Lounge will be transformed into the best house party you ever went to – we'll have a kitchen with a fridge full of beers, bedrooms to sneak off to, and the best stereo you ever heard in the living room – we'll even have music in the garden shed and it all goes on to an unseemly 4am with no chance of the neighbours complaining."
Long time fans will know the combination of lunacy and attention to detail these folks are capable of, and we'll be gracing the living room stereo alongside The Whip, May 68, Lost & Found, The Answering Machine, Same Teens and some genuine secret spesh guests. Really, I can't think of a better place on this isle I'd rather be doing New Years, so get your asses down/up. Full details here. I'm trying to talk 'em into a New Year's Day meltdown session too, so watch this space…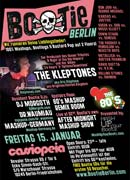 Second in order only, in the new year Eric will be heading out across for a debut performance at Bootie Berlin, by invitation of the mighty fine DJ Morgoth, who will be providing backup along with the splendid Dr.Waumiau. Friday 15th January is the date for your diaries, my German friends (and anyone else that feels like a weekender!), and with the Bootie seal of quality, you know this is going to be a spectacular show!
Last and most definitely not least, the fine US VJ DJ Tripp has put together a videomash for "Voodoo Sabotage" – Many thanks to him. Check it out below and hope to see you soon – more shows in the pipeline as always!