Happy early days of spring in the north-western quadrasphere (or something) to you. More gigs and Videotones news for you – read in!
Straight in with the gigs – frist up, a rather overdue hometown show here in Brighton on Friday 19th March, as part of the Synthetiquette night at The Hope – also playing are Neon Highwire and Officer 82. It'll be a great way to blow off the cobwebs before we head off to the USA, but get down early as it's not a huge room!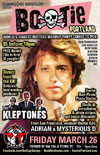 Second up, speaking of the USA, we're delighted to be extending our existing Californian excursion into the fine county of Oregon – That's right, we'll be touching down in Portland on Friday 26th March for Bootie Portland! Really looking forward to this one as we've made some fine contacts in Portland over the years, so it'll be good to finally hook up!
Not in Portland or Brighton? Whimper not, for here is the next installment of the Videotones project – The director is Brad Mackey of Crappy Logo Productions, who adds a splendidly psychedelic edge to "MKY Da HVN":