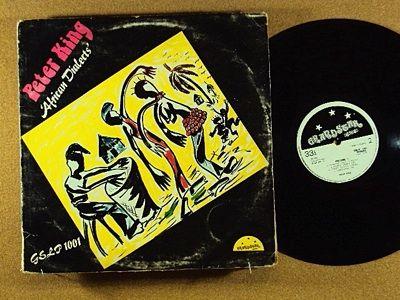 Okay, a few friends have been asking me to do one of these mixes for a while, so here goes – it focuses on the deeper, funkier and sometimes jazzier end of 70s West African music (okay, Congo is Central Africa, but let's not split too many hairs) – I'll do another mix of the more intense stuff sometime in the future.
Docteur Nico & L'Orchestre African Fiesta – Zadio (Congo, 1967)
The Funkees – Acid Rock (Nigeria, 1971)
Bola Johnson – Buroda Mase (Nigeria, 1970s)
Ogyatanaa Show Band – You Monopolise Me (Ghana, 1970s)
Gnonnas Pedro & His Dadjes Band РLa Musica En V̩rit̩ (Benin, 1979)
Alhaji K Frimpong – Kyenkyen Bi Adu Mawu (Ghana, 1976)
Don Isaac Ezekiel Combination – Ire (Nigeria, 1970s)
Thony Shorby Nyenwi – No Wrong Show (Nigeria, 1978)
The BBQ's – Aya Lolo (Nigeria or Ghana, 1970s)
Sahara All Stars – Alikali Adajo (Nigeria, 1970s)
Super Mama Djombo – Dissan Na M'bera (Guinea-Bissau, 1970s)
Peter King – African Dialects (Nigeria, 1979)
I didn't intend to focus so heavily on Nigeria & Ghana, just tried to get a mix of some of my favourites that flowed well. I'll be giving this a good few spins myself for sure, so it was definitely worth the effort! :D
The original vinyls of these tunes are worth mighty dollars, so these have been grabbed either from the many fine blogs posting this rare stuff or from the great series of compilations on Soundway Records – Thanks to them for making such excellent music more widely available!