Okaydoke, I'm coming back from a forced couple-of-months hiatus, mainly due to having to find somewhere new to live and make a Kleptones base, which took rather longer than expected – Space, as you may well imagine, is at a premium in this overcrowded city, which has led to some very over-the-top rents (32% rise in three years apparently) and some rather minuscule dwellings – Being rather a tall chap with a bit of baggage, living hand-to-mouth, it's not the most ideal of situations. Sorted now though, thank f–k, and it was just in time for us to kick off the new venue for Kleptonite on 10th November!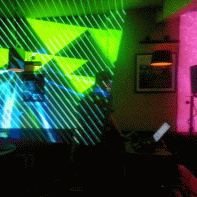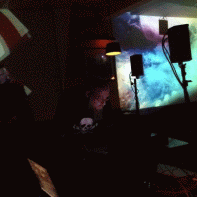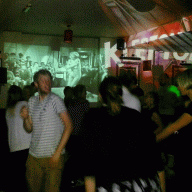 (Pics appropriated from Instamatic and DJ Payroll, sure they won't mind!)
As I mentioned before, The Britannia in Hackney (map) seemed to be an ideal venue, and so it proved, with valiant back up from the Butch Auntie visual massive, and Instamatic producing a storming and very well received debut AV set, it all went rather well. Not the hugest of sound-systems, but good enough for now – If the crowd grows, we'll be able to afford a better PA! And we're going to continue, second Saturday of each month – The next one will be on Saturday 8th December (special guest to be announced soon!), so if you're in the vicinity, come down, and if you think you'd like to play a set, especially if you're video-centric, get in touch!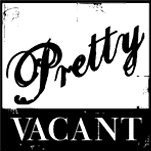 While we're on the gig front, after many attempts, I'm going to be DJing at Pretty Vacant in Dusseldorf on Saturday 1st December. Those of you will remember the last time I attempted this I ended up snowed in, so we'll be pulling out some major weather spells to ensure it doesn't happen this time!
Finally, now all the home-moving shizzle is out of my bizzle, we can get back onto the regularly-posting-tunes-and-mixes train, so here's a couple of classic 70s rockers given a rather dubby makeover. Hope you like, and see you soon!
(Soundcloud links below – open the post in a new window if they don't show up in your blog reader!)